the following article is is from my friend Brandon Darby posted at
BigGovernment.com
and also at Texas GOP Vote here:
http://www.texasgopvote.com/issues/stop-big-government/true-vote-obama-campaign-targeted-citizens-trained-prevent-voter-fraud-ohio-0051601
True The Vote: Obama Campaign Targeted Citizens Trained To Prevent Voter Fraud In Ohio
Millions of Americans were stunned after watching Hamilton County, Ohio voter and Organizing for America volunteer Melowese Richardson proudly
admit to casting multiple ballots
for President Barack Obama. Recently surfaced emails expose how Organizing for America worked to monitor and block any possibility of a citizen volunteer catching others like Ms. Richardson in the act.
In an exclusive interview with Breitbart News,
True the Vote
shared emails between Obama staffers discussing targeting specific individuals they believed were associated with True the Vote in Hamilton County, Ohio. Official records obtained by True the Vote indicated that the private citizens on the Obama target list were poll clerks hired by the county--not observers placed by candidates.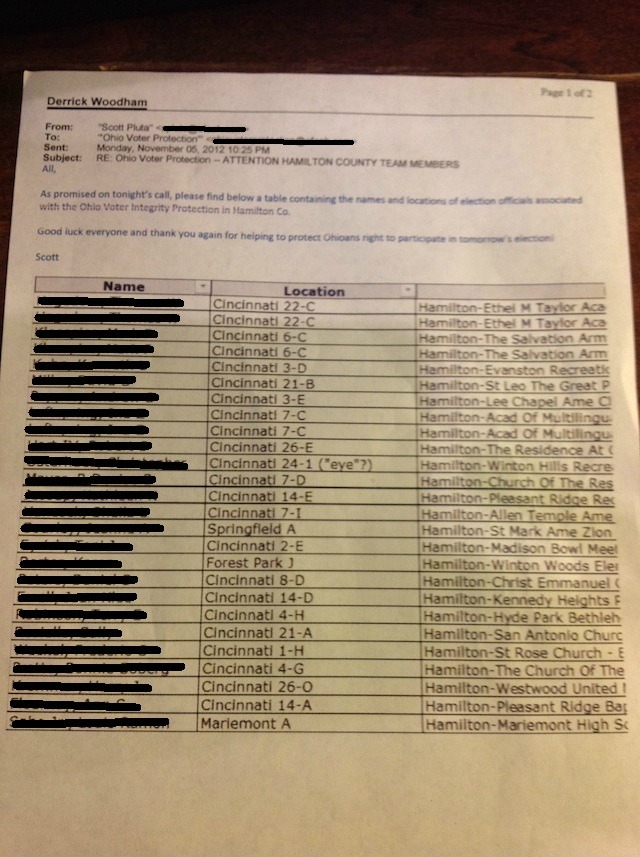 The email's author, current Consumer Financial Protection Bureau employee
Scott Pluta
, stated with certitude that these people were affiliated with True the Vote locally.
"There are a number of elements to this finding that are concerning,"
True the Vote President Catherine Engelbrecht said.
"The idea that an incumbent presidential campaign would build target lists on citizens that are specifically trained to detect fraudulent behavior in the polls is truly unnerving. You would think that kind of story would be told in developing nations, not the United States."
The election watchdog reasons the Obama campaign compiled such precise lists with well-timed open records requests for incoming emails to the Hamilton County Board of Elections from known True the Vote affiliates in the area.
"There's nothing illegal here, it's just unsettling to know that a candidate for public office dedicates time and effort to remove citizens that are well-versed in Ohio election code from the process,"
Engelbrecht said.
"If long lines at the polls are truly the civil rights struggle of the 21st Century, perhaps it's best we don't try to kick out the people who actually keep the line moving."
Prior to the 2012 presidential election, True the Vote was subjected to numerous attacks from partisan organizations and media figures over concerns that its operations were contributing to alleged "voter suppression." A quick search yields over 35 full-length segments from MSNBC prime-time programming regarding the citizen watchdog. Engelbrecht argues these attacks serve a larger purpose:
"Voter suppression is a political construct. Washington cannot wrest the responsibility of conducting elections until it chills citizen participation on the local level. Election Day bullying and media campaigns designed to label volunteers as racist are two examples we've seen so far. This is unacceptable. True the Vote will challenge this effort directly in 2013."